How do we unmake the multiple machines that steal and use against us the very data made from our bodies, daily lives and connections to other people?
This page contains tools & resources to support organizers with political education about data criminalization and data liberation. We want to learn, think, and experiment with other comrades about these questions and organize our resistance through an abolitionist framework.
Curriculum Workbook - Full PDF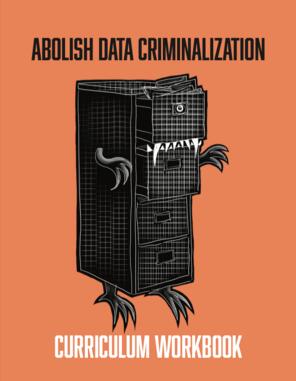 The Abolish Data Criminalization Curriculum Workbook is an educational tool for organizers committed to learning about and organizing against migrant surveillance and social control. The workbook contains five guided activities with accompanying resources. It operates as a facilitation guide that will engage participants in discussions, personal and collective reflections, study, and more.
The workbook has also been divided into sections for easier viewing and printing. We recommend that you start with the Introduction Section, which contains activity descriptions and suggestions to help you decide which activities are best for your group.